Salsa Crazy San Francisco Salsa Dance News [Local Edition]
Salsa Dancing in the San Francisco Bay Area!
SalsaCrazy's Salsa Dance Newsletter
(Local Edition) San Francisco Bay Area Salsa News
Brand New: SalsaCrazy Video Podcast, see it!
Today: Grupo Rush at Roccapulco (get your Bachata Fix…)
This Friday: Sonora Poncena at Roccapulco!

This month, what do Andy Montanez, Sonora Poncena, Gilberto Santa Rosa, El Gran Combo and Puerto Rican Power have in common? San Francisco! That's right, they are all on their way here…

NEW FOR AUGUST: DanceSF Classes, Take em', Get Crazy!
Join DanceSF on Facebok! Hear that? Join us on Facebook…
(yes, DanceSF has a Separate Facebook group)
New SF Bay Area Salsa Dancing News & Calendar Site:
Submit your news to: salsacrazy@gmail.com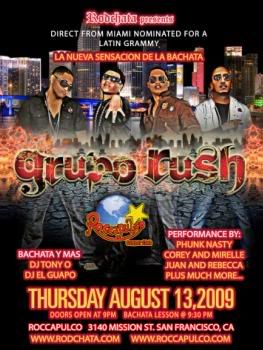 GRUPO RUSH
Today, Thurs. Aug. 13, 2009
Live at Roccapulco
Direct from Miami, nominated for a Latin Grammy, La Nueva
Sensación de la Bachata, Grupo Rush
Performances by:
Phunk Nasty,
Corey and Mirelle, Jan and Rebecca
Featuring:
DJ Tony O, and DJ El Guapo.
Roccapulco Supper Club
3140 Mission St.
San Francisco, CA.
Doors open at 9:00pm.
It just keeps getting better: Sonora Ponceña Live in San Francisco and Sacramento!
Doubletree Hotel Sacramento – Thursday, August 13, 2009
Roccapulco San Francisco – Friday, August 14, 2009
TWO amazing live salsa shows!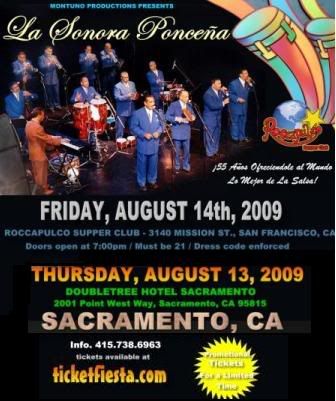 Tickets for Friday Aug. 14th in San Francisco
Roccapulco Supper Club
3140 Mission Street
San Francisco, CA
Doubletree Hotel Sacramento
2001 Point West Way
Sacramento, CA 95815
'FREAKY FRIDAYS'
with Pop Fiction
Live at Cafe Cocomo
Friday, August 14th, 2009
8PM-2AM
Dance the night away with the Bay Area's hottest party band… POP FICTION! 70's, 80's, 90's, & 2000's!
Featuring DJ Mendy Spinning all the Cocomo Favorites
Join Pop Fiction for Cafe Cocomo's "Freaky Fridays". Cafe Cocomo is a 1000+ capacity 2-level live music venue in San Francisco's Potrero Hill district. Huge stage, 4 bars, massive dance floor, and the largest outdoor patio in SF!
Cafe Cocomo
650 Indiana St
San Francisco

SALSACRAZY IN THE SQUARE!
Live Salsa Music & Dance In Union Square Every Month This Summer, 2009
In August:
Orquesta Borinquen
Look Here For More information!
August 19th, Wednesday
Orquesta Borinquen
6:00pm: Free Beginning Salsa Lesson!
6:20pm: Live Band, Orquesta Borinquen
September 16th, Wednesday
Los Boleros
6:00pm: Free Beginning Salsa Lesson!
6:20pm: Live Band, Los Boleros
October 21st, Wednesday
Latin Jazz Youth Ensemble
6:00pm: Free Beginning Salsa Lesson!
6:20pm: Live Band, Anthony Blea
Union Square is located in the
heart of downtown San Francisco.
Beginning
at Powel St & Geary St., Union Square is situated within close
walking distance from the Powel Bart Station and several convenient
parking garages.
~ Sponsored by SalsaCrazy & Jewels in the Square ~
The P icons show parking garages –>
Latin Bay Area DJs Present:

The First Ever DJ EXPLOSION!!
Live from Roccapulco Supper Club
25+ Latin DJs Under One Roof…
Sunday September 6th, 2009
Next Day is a Holiday… Doors open at 7PM
Starring:
DJ Walt Digz, DJ El dela Clave, DJ Fab, DJ Tony O, DJ Bosco, DJ Luis Caballero, DJ Moe, DJ Barrera, DJ Cana In The Mix, DJ Chino, DJ Boricua, DJ Cocoloco, DJ Eddie T, DJ Q, DJ Pato, DJ Frank, DJ Frisco Eddie, DJ Happy, DJ Papi, DJ Freddy Benavides, DJ Mas, DJ Tota Cervantes, DJ Nica, DJ Memo, DJ Alvaro
Roccapulco
3140 Mission St
San Francisco, CA
Back By Popular demand. For the First time at Roccapulco
…
Saturday, August 22nd, 2009
Also featuring DJ's Lcaballero, Bosco & Tony O
Join us for an exceptional night of salsa music and dance!

Gilberto Santa Rosa is considered one of the true 'soneros" of his generation.
He is known for his exceptional interpretation of 'salsa romantica' as
well as a great singer of the "tropical" style.
Roccapulco Supper Club
3140 Mission Street
San Francisco, CA

THE
9TH ANNUAL NEW YORK INTERNATIONAL
SALSA CONGRESS
New
York City's PREMIER Latin
dance & music event!
Are you ready to Salsa and Mambo? Well then, come join us each summer on
Labor Day Weekend where thousands
of Mambo/Salsa dancers and Latin
music aficionados gather from around
the world and converge on the Salsa
Mecca to teach, study, perform,
collaborate, socialize, explore
and dance!
See more details and get tickets here
The New York International Salsa Congress is a
celebration of Latin dance
and music with it's
main purpose being to inspire participants to achieve a higher
level of knowledge, expression
and appreciation, most importantly
promotes cultural awareness, regardless
of age, race, culture, gender,
social and economic background.
The New York International Salsa
Congress features four
action packed days and evenings
of Latin Dance workshops,
youth and adult professional performance
showcases, concert series,
a professional championship, etc. All
of this and more right smack in
the HEART of New
York City at
the prestigious Hilton New
York.
Hilton New
York
1335
Avenue Of the Americas
(53rd
Street on
the 3rd FL.)
Last Minute Promotions Presents:
2 hours of Salsa Lessons
With Alex da Silva
Live from Roccapulco Supper Club
San Francisco, California
Every Wednesday Night Starting August 5th
Featuring DJ Tony O and DJ Bosco
Doors open at 7pm
Alex Da Silva is a dancer and choreographer, specializing in Salsa dancing. Da Silva was born March 27, 1968 in Rio de Janeiro, Brazil.[2] He discovered Salsa dancing at the age of 20.[3]
He is credited with contributing to the "LA Style" of Salsa dancing. Da
Silva started his career as a salsa dancer and instructor in the San
Francisco Bay Area.
Roccapulco
3140 Mission St
San Francisco, CA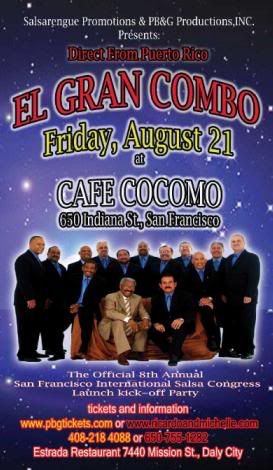 OH MY GOD – Are you KIDDING me? WOW!
Salsarengue Promotions and PB & G Productions, Inc.

Present:

** EL GRAN COMBO **

Live from Cafe Cocomo, San Francisco
Direct for Puerto Rico…
El Gran Combo plays Cafe Cocomo:
FRIDAY – AUGUST 21st
The Official Kick-off Party for the 8th annual
San Francisco International Salsa Congress
Join us for an incredible night of stellar salsa music & dancing. Live from San Francisco's famouse salsa venue… Cafe Cocomo!
Cafe Cocomo
650 Indiana Street
San Francisco, CA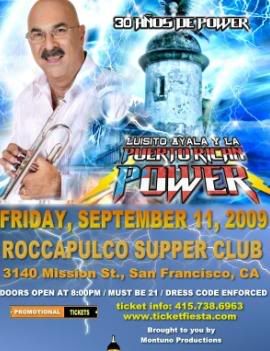 Luisito Ayala Y Su Puerto Rican Power
Celebrating "30 Años de Power"
West Coast Tour…
Puerto Rican Power
@ Roccapulco Supper Club
Friday, Sept. 11, 2009
Price:
$20.00
Roccapulco Supper Club
3140 Mission St.
San Francisco, CA.
2009 Grand Pacific Dance Championships

August 20-23, 2009
@ the Double Tree Hotel in San Jose, CA
Join us in three days and three nights of exciting dance competitions, social
dancing, dinner and show, in the heart of Silicon Valley, San Jose, California.
More info and tickets here.
Competitions in Hustle, West Coast Swing, Salsa, American & International Ballroom
Spectacular Saturday Dinner, Dance, and Show.

Professional showcase competition & late night social dancing until early morning.
SF HipHop Dance Fundraiser Performance
The San Francisco Hip Hop Dance Festival has been hit
by cuts in funding. Please help to continue this Bay Area show by attending our fundraiser show & party.
Friday and Saturday – Aug 21 & 22
8pm – Dance Mission Theater, SF
Saturday August 22, 2009
10:30pm – San Francisco
More details about the shows
Dance Mission Theater
3316 24th Street
San Francisco, CA
Project One
251 Rhode Island
San Francisco, CA
(donations appreciated)
Glas Kat Mr. Maracas: Salsa Dancing

Every Tuesday Night + Live Music!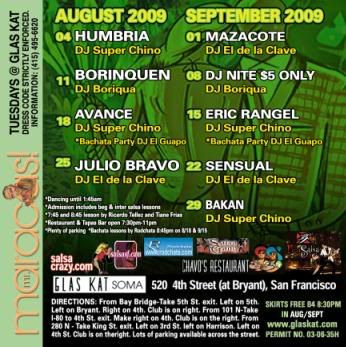 Tuesday's at GlasKat: Mr. Maracas!

Salsa dancing all night long!

Glas Kat SupperClub
Salsa Dancing Every Tuesday & Always Amazing Live Salsa Music!

Lessons:
Ricardo + Tianne
Beginners at 7:45 + 8:45
General admission $10

Glas Kat Soma
520 Fourth Street
San Francisco, CA

The SalsaCrazy Dance Videos Store!
~ GRAND OPENING SALE! ~ Exceptional Savings…
Featuring Bestselling Salsa Dance Systems & Five-Star, Top-Selling Instructional Dance Videos. Order today to get the best prices, backed by our stellar reputation & 100% satisfaction guarantee.
Here are a few of our best-selling systems: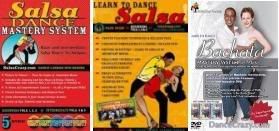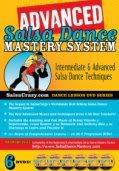 And now featuring the newest SalsaCrazy Series:
The Advanced Salsa Dance Mastery System (6 DVD Set)
Plus get discounts and find all of SalsaCrazy's other amazing dance products.
Featuring Salsa, Merengue, Bachata, Cha Cha Cha, Styling, Footwork, Ballroom, and more!

SalsaCrazy Monday Nights!
SALSA DANCING AFTER 9:30!

Exception: Live Salsa This Week…
This week live salsa @ 8pm!!!



Live from the Rockit Room:


Salsa Dancing from 9:30 & Beyond…


Before 9:30, Salsa Lessons with SalsaCrazy

This is a FREE event every Monday, 9:30 on

Featuring DJ SalsaCrazy & Friends!

Come out and dance the night away with friends while you meet new people!

This is an excellent chance for your to get out and enjoy some salsa with great people, and music in a stellar venue!

Rockit Room is a fantastic space with tons of room to dance & an amazing sound system!
Liven Up Your Mid-Week
Salsa Dancing, San Jose
Free Salsa Lessons at 8pm
Featuring all-star DJ El Dela Clave

Roccapulco Supper Club Salsa Nights – August 2009
For Stellar Salsa Music and Dance, Roccapulco is
the place to be on Friday and Saturday nights!
Salsa Lessons at 8:30pm with Ava and Rodolfo (this Friday and Saturday)
3140 Mission Street
San Francisco, CA 94110
Tel. 415.648.6611
SalsaCrazy's ROCKIT ROOM Class!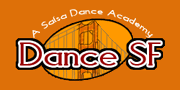 SalsaCrazy's Rockit Room class
continues… In Style!
Join us for an amazing
salsa session in the Richmond.
Sign up for August 2009 Classes Now!
Learn to
Salsa Dance… Get Crazy!
The Rockit Room
406 Clement St (at 5th Ave)
San Francisco, CA
94118
Brand new stellar Salsa Music Compilation Out Now!
A hip-shaking music collection featuring many of the hottest salsa
bands in North and South America is finally here!
¡Salsa!
An incredible Salsa compilation by the Putumayo World Music label
Order The CD And See More Details Here.
While the irresistible sounds of Afro-Latin music have long been a highlight of Putumayo collections, ¡Salsa!
focuses on the upbeat, danceable style that has become a worldwide
phenomenon. Featured prominently on television's popular dance contest
shows, tens of thousands of dance schools have incorporated salsa
classes, thousands of nightclubs now offer salsa nights and scores of
international salsa congresses and cruises draw in hundreds of
thousands of salsa dancers. As a result, salsa has truly become
mainstream.

Introducing the ALL-NEW Hear & Play Salsa Piano 101 Series!
"Finally! The Secret Is Out!" "A Proven Method To Quickly And Easily Play Salsa Piano By Ear. . . Even If You Have Little Or Absolutely No Experience!"
How to easily play tons of Salsa and Latin chord patterns that are guaranteed to make you

look

Learn several Latin rhythms that you can start playing today. Like the montuno, clave, and more!

How to play several Salsa bass lines on your left hand and accompany them with powerful right-hand chord patterns.

How to lock in with the band and ensure that you're always playing the right rhythms at the right time (and how to listen for them).
Check out this amazing system to learn how to play Salsa like a pro…
Get ready to dance with the hottest and most fun salsa dance acadamy in the San Francisco Bay Area!
Featuring brand new salsa classes with SalsaCrazy!!!
All new DanceSF classes are beginning this Month…
Please visit our online schedule for times, dates, & locations:
You can (and should) register online!
For any questions regarding classes, please
contact
:
info@DanceSF.com or call 877.507.3403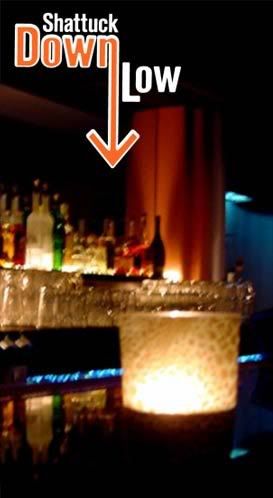 The DownLow Lounge: Wednesday Night Salsa in the East Bay!
When you think of the DownLow lounge, nestled down a set of stairs, right off Shattuck Ave. in Berkeley, you think of Salsa History, and you can't help but remember . . .
This club has been around since the days of Kimballs, and back then it was known as Mr. E's (and belonged, in fact, to Mr. Pete Escovedo).
Well, new name, but still, there's something special when you visit the DownLow. It's just a classic salsa spot . . .
Don't miss out! Great Dance Lessons for over an hour, start every night off, with SalsaMania (John and Liz). It's a great night out, at a classic salsa spot!
Live Salsa every Wed.
Dance lessons: Beg. 8-8:45, Int. 8:45-9:30. Show @ 10:15. $4 Margarita special. $10/$5 w/student ID.

SalsaCrazy's Bay Area Nightilfe/Event Calendar!
The definitive guide to Latin Nightlife and Events in the Bay Area.
Everyone, and Everything is listed!
Promoters, Nightclubs, Teachers: Make sure that your nights are listed on the calendar. Right from the Calendar page, anyone may add a listing, & it's FREE! Make sure to bookmark the page, & always add your events as far in advance as possible! Pass the word, this is a great resource for the dancers, & you should visit it often to plan your nights out!
IT'S FREE – EVERYONE & ANYONE CAN POST EVENTS, & IT ONLY TAKES ONE MINUTE
Don't know what to do tonight? Every event, throughout the entire Bay Area (and major cities outside the Bay Area) is listed right on this calendar. It's fantastic! One place you can go to check out every Salsa Dance event in the Bay. Don't miss a single event, ever – and see every night's infinite possibilities!

DJ Coqui, Salsaroots.com and Salsacrazy.com are proud to announce our new Internet radio station SABOR BORICUA. Listen to the hottest Salsa Sounds on the internet compiled by DJ Ivette "DJ LA COQUI" This Station Plays Tracks Like: Celia Cruz – Mi Vida Es Cantar – Mi Vida Es Cantar Ismael Miranda – Borinquen Tiene Montuno – Fania 30 Great Years, Vol. 2 ( Johnny Polanco – Guacuanco con rumba – Pa'l Bailador Roberto Roena – Baila y Goza – Roberto Roena y Su Apollo Sound: Mi Mica 1997 Walker, Rico / Willie Rosario – La Bomba – Back to the Future.