Salsa Dance Cruise, Salsa Cruise to the Caribbean and Panama! 8/13/2009
Salsa Cruise, Salsa Dancing Cruise to the Caribbean and Panama!
SalsaCrazy and DanceFun Salsa Dance Cruise,
January 2010. Salsa Dancing in the Panama Canal

Salsa Cruise Alert
July, 2009

One Question: Are you on Board? Have you Called in?

(ok, that's two questions…)
The 2010 SalsaCrazy & DanceFUN Cruise through the Caribbean and the Panama Canal!
SalsaCrazy's New Salsa Dance Cruise is filling up!
(Remember, DanceFUN is our partner for these cruises)
The SalsaCrazy Cruise is setting sail to Panama, AKA Paradise! For 10 Days!
CHECK OUT THESE PORTS OF CALL …
WHO SHOULD COME?
Everyone! This cruise is a great vacation for all ages, and all skill levels
(yes, even beginners). Singles, Couples, groups of friends, all are welcome!
This cruise features all the great
activities & amenities of a
Panama Cruise plus the
fun and excitement of a Salsa event at sea.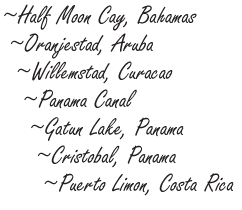 When?
January 22nd – February 1st, 2010
Departing where?
Ft. Lauderdale, Florida
Beautiful Ports of Call:

For more info, please visit our site: SalsaCruiseCrazy.com
Click the image below to see the preview video of SalsaCrazy's Cruise: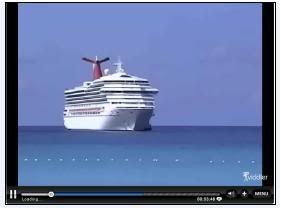 How to Register for the cruise:
Get your tickets now.

To Register for the
2010 SalsaCrazy Cruise to Panama, just Call
DanceFun (our cruise partners) and
say you want to:


Visit, http://www.SalsaCruiseCrazy.com

After you visit, and get your questions answered, please call our DanceFUN directly at, 866-DANCE-FUN!

-> That's how you register!
Step 1: Get info on the Website
Step 2: Call the 866-DanceFUN #





The Ship
The

ms Zuiderdam

Ship Info & Itinerary:

Class:

Vista Class


Length:

963ft



Total
Crew:
800
Guest
Capacity: 1,916



Cruising
Speed:

24 Knots



Gross
Tonnage:

82,000



Registry
The Netherlands



The Salsa Dancing


What to expect…






Dancing & Workshops

– Enjoy Dancing Latin &

Salsa themed Dances & Workshops.

Latin & Salsa – Mambo, Salsa, Rumba, Bachata,
Merengue, Cha-Cha, Tango & More!

Dancing – Most Nights with Latin Dancing!
(based on ship's schedule). Our evening Dances are scheduled
to be on large wood floor!

Workshops – Lots of Workshops on days at sea
for All Levels! Workshops to be Latin & Salsa (Beginning to Int/Advanced).



More Information
All you need to know…

For more crazy details and helpful information, please visit our site:

In there, you'll find all the info you need in order to join this amazing salsa cruise!
SalsaCrazy's Dance Video Store, Now Open!
From Salsa to Bachata, Merengue and Cha Cha, the Brand New
SalsaCrazy Store has everything to meet your dancing needs…
And now officially featuring:
SalsaCrazy's Advanced Salsa Mastery System (6 DVDs)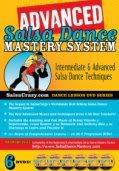 Over 3 years in production, the sequel to the best selling salsa dance system of all time is finally here! SalsaCrazy's Advanced Salsa Dance Mastery System is a massive 6 DVD set for intermediate and advanced dancers. An all new, step-by-step, jam-packed advanced DVD collection. We leave nothing out!
Order the Advanced Mastery System Now!

Now open to the public, the SalsaCrazy Store offers many best-selling instructional DVDs that will take you step-by-step through all of the Latin and Ballroom dances in an easy-to-follow and fun way to learn.
Check out the SalsaCrazyStore for more details…
Progress at your own pace and challenge yourself with new patterns and steps. This is for anyone and everyone, no dance experience necessary!

SalsaCrazy's Salsa Dance Mastery System, 5 DVD Set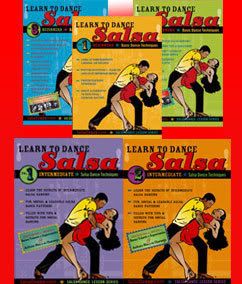 This is it – You Must get this, it's the single greatest Instructional Salsa Dance System ever created!
No Dance Experience Necessary – we'll take you all the way from Beginning through a high level intermediate, and YES, you CAN do it (and you SHOULD).
SalsaCrazy's Learn to Salsa Dance Collection: Mastery Series, 5 DVD Set

This is the ultimate collection to take you through beginner beginners salsa dance. This set includes all of SalsaCrazy's Beginning and Intermediate Learn to Salsa Dance DVD's. Enjoy these fun, sexy and easy-to-follow lessons on high-quality video in the privacy of your own home.
WHAT YOU'LL LEARN:
You'll be getting all five fantastic volumes in SalsaCrazy's Beginning and Intermediate Salsa Dance DVD Series, for a great price. It's an unbeatable deal, and what the real SalsaCrazy people opt for! This is all you'll need to take you a long way into your salsa dancing lives. Don't miss it!