Advanced Salsa Dancing?  Are you an intermediate or advanced Salsa Dancer? Have ya' seen this yet?
Salsa Dancing in the San Francisco Bay Area!
Brand New: SalsaCrazy Video Podcast, see it!
Today: Grupo Rush at Roccapulco (get your Bachata Fix…)
This Friday: Sonora Poncena at Roccapulco!

This month, what do Andy Montanez, Sonora Poncena, Gilberto Santa Rosa, El Gran Combo and Puerto Rican Power have in common? San Francisco! That's right, they are all on their way here…

NEW FOR AUGUST: DanceSF Classes, Take em', Get Crazy!
Join DanceSF on Facebok! Hear that? Join us on Facebook…
(yes, DanceSF has a Separate Facebook group)
New SF Bay Area Salsa Dancing News & Calendar Site:
Submit your news to: salsacrazy@gmail.com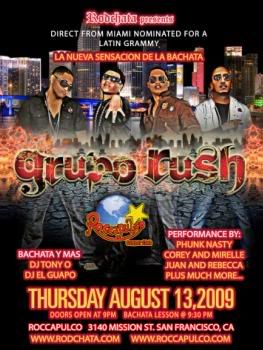 GRUPO RUSH
Today, Thurs. Aug. 13, 2009
Live at Roccapulco
Direct from Miami, nominated for a Latin Grammy, La Nueva
Sensación de la Bachata, Grupo Rush
Performances by:
Phunk Nasty,
Corey and Mirelle, Jan and Rebecca
Featuring:
DJ Tony O, and DJ El Guapo.
Roccapulco Supper Club
3140 Mission St.
San Francisco, CA.
Doors open at 9:00pm.
It just keeps getting better: Sonora Ponceña Live in San Francisco and Sacramento!
Doubletree Hotel Sacramento – Thursday, August 13, 2009
Roccapulco San Francisco – Friday, August 14, 2009
TWO amazing live salsa shows!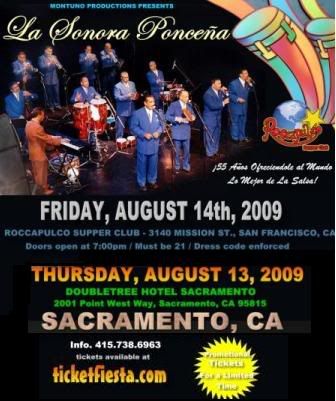 Tickets for Friday Aug. 14th in San Francisco
Roccapulco Supper Club
3140 Mission Street
San Francisco, CA
Doubletree Hotel Sacramento
2001 Point West Way
Sacramento, CA 95815
'FREAKY FRIDAYS'
with Pop Fiction
Live at Cafe Cocomo
Friday, August 14th, 2009
8PM-2AM
Dance the night away with the Bay Area's hottest party band… POP FICTION! 70's, 80's, 90's, & 2000's!
Featuring DJ Mendy Spinning all the Cocomo Favorites
Join Pop Fiction for Cafe Cocomo's "Freaky Fridays". Cafe Cocomo is a 1000+ capacity 2-level live music venue in San Francisco's Potrero Hill district. Huge stage, 4 bars, massive dance floor, and the largest outdoor patio in SF!
Cafe Cocomo
650 Indiana St
San Francisco

SALSACRAZY IN THE SQUARE!
Live Salsa Music & Dance In Union Square Every Month This Summer, 2009
In August:
Orquesta Borinquen
Look Here For More information!
August 19th, Wednesday
Orquesta Borinquen
6:00pm: Free Beginning Salsa Lesson!
6:20pm: Live Band, Orquesta Borinquen
September 16th, Wednesday
Los Boleros
6:00pm: Free Beginning Salsa Lesson!
6:20pm: Live Band, Los Boleros
October 21st, Wednesday
Latin Jazz Youth Ensemble
6:00pm: Free Beginning Salsa Lesson!
6:20pm: Live Band, Anthony Blea
Union Square is located in the
heart of downtown San Francisco.
Beginning
at Powel St & Geary St., Union Square is situated within close
walking distance from the Powel Bart Station and several convenient
parking garages.
~ Sponsored by SalsaCrazy & Jewels in the Square ~
The P icons show parking garages –>
Latin Bay Area DJs Present:

The First Ever DJ EXPLOSION!!
Live from Roccapulco Supper Club
25+ Latin DJs Under One Roof…
Sunday September 6th, 2009
Next Day is a Holiday… Doors open at 7PM
Starring:
DJ Walt Digz, DJ El dela Clave, DJ Fab, DJ Tony O, DJ Bosco, DJ Luis Caballero, DJ Moe, DJ Barrera, DJ Cana In The Mix, DJ Chino, DJ Boricua, DJ Cocoloco, DJ Eddie T, DJ Q, DJ Pato, DJ Frank, DJ Frisco Eddie, DJ Happy, DJ Papi, DJ Freddy Benavides, DJ Mas, DJ Tota Cervantes, DJ Nica, DJ Memo, DJ Alvaro
Roccapulco
3140 Mission St
San Francisco, CA
Back By Popular demand. For the First time at Roccapulco
…
Saturday, August 22nd, 2009
Also featuring DJ's Lcaballero, Bosco & Tony O
Join us for an exceptional night of salsa music and dance!

Gilberto Santa Rosa is considered one of the true 'soneros" of his generation.
He is known for his exceptional interpretation of 'salsa romantica' as
well as a great singer of the "tropical" style.
Roccapulco Supper Club
3140 Mission Street
San Francisco, CA

THE
9TH ANNUAL NEW YORK INTERNATIONAL
SALSA CONGRESS
New
York City's PREMIER Latin
dance & music event!
Are you ready to Salsa and Mambo? Well then, come join us each summer on
Labor Day Weekend where thousands
of Mambo/Salsa dancers and Latin
music aficionados gather from around
the world and converge on the Salsa
Mecca to teach, study, perform,
collaborate, socialize, explore
and dance!
See more details and get tickets here
The New York International Salsa Congress is a
celebration of Latin dance
and music with it's
main purpose being to inspire participants to achieve a higher
level of knowledge, expression
and appreciation, most importantly
promotes cultural awareness, regardless
of age, race, culture, gender,
social and economic background.
The New York International Salsa
Congress features four
action packed days and evenings
of Latin Dance workshops,
youth and adult professional performance
showcases, concert series,
a professional championship, etc. All
of this and more right smack in
the HEART of New
York City at
the prestigious Hilton New
York.
Hilton New
York
1335
Avenue Of the Americas
(53rd
Street on
the 3rd FL.)
Last Minute Promotions Presents:
2 hours of Salsa Lessons
With Alex da Silva
Live from Roccapulco Supper Club
San Francisco, California
Every Wednesday Night Starting August 5th
Featuring DJ Tony O and DJ Bosco
Doors open at 7pm
Alex Da Silva is a dancer and choreographer, specializing in Salsa dancing. Da Silva was born March 27, 1968 in Rio de Janeiro, Brazil.[2] He discovered Salsa dancing at the age of 20.[3]
He is credited with contributing to the "LA Style" of Salsa dancing. Da
Silva started his career as a salsa dancer and instructor in the San
Francisco Bay Area.
Roccapulco
3140 Mission St
San Francisco, CA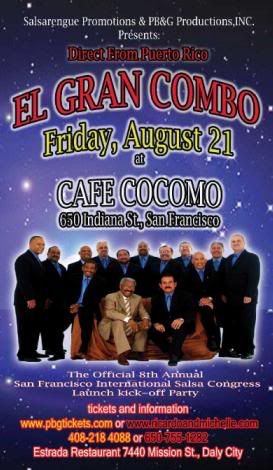 OH MY GOD – Are you KIDDING me? WOW!
Salsarengue Promotions and PB & G Productions, Inc.

Present:

** EL GRAN COMBO **

Live from Cafe Cocomo, San Francisco
Direct for Puerto Rico…
El Gran Combo plays Cafe Cocomo:
FRIDAY – AUGUST 21st
The Official Kick-off Party for the 8th annual
San Francisco International Salsa Congress
Join us for an incredible night of stellar salsa music & dancing. Live from San Francisco's famouse salsa venue… Cafe Cocomo!
Cafe Cocomo
650 Indiana Street
San Francisco, CA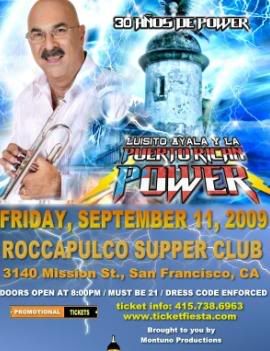 Luisito Ayala Y Su Puerto Rican Power
Celebrating "30 Años de Power"
West Coast Tour…
Puerto Rican Power
@ Roccapulco Supper Club
Friday, Sept. 11, 2009
Price:
$20.00
Roccapulco Supper Club
3140 Mission St.
San Francisco, CA.
2009 Grand Pacific Dance Championships

August 20-23, 2009
@ the Double Tree Hotel in San Jose, CA
Join us in three days and three nights of exciting dance competitions, social
dancing, dinner and show, in the heart of Silicon Valley, San Jose, California.
More info and tickets here.
Competitions in Hustle, West Coast Swing, Salsa, American & International Ballroom
Spectacular Saturday Dinner, Dance, and Show.

Professional showcase competition & late night social dancing until early morning.
SF HipHop Dance Fundraiser Performance
The San Francisco Hip Hop Dance Festival has been hit
by cuts in funding. Please help to continue this Bay Area show by attending our fundraiser show & party.
Friday and Saturday – Aug 21 & 22
8pm – Dance Mission Theater, SF
Saturday August 22, 2009
10:30pm – San Francisco
More details about the shows
Dance Mission Theater
3316 24th Street
San Francisco, CA
Project One
251 Rhode Island
San Francisco, CA
(donations appreciated)
Glas Kat Mr. Maracas: Salsa Dancing

Every Tuesday Night + Live Music!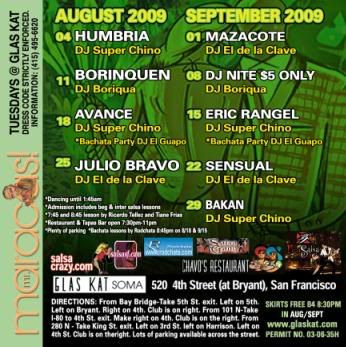 Tuesday's at GlasKat: Mr. Maracas!

Salsa dancing all night long!

Glas Kat SupperClub
Salsa Dancing Every Tuesday & Always Amazing Live Salsa Music!

Lessons:
Ricardo + Tianne
Beginners at 7:45 + 8:45
General admission $10

Glas Kat Soma
520 Fourth Street
San Francisco, CA

The SalsaCrazy Dance Videos Store!
~ GRAND OPENING SALE! ~ Exceptional Savings…
Featuring Bestselling Salsa Dance Systems & Five-Star, Top-Selling Instructional Dance Videos. Order today to get the best prices, backed by our stellar reputation & 100% satisfaction guarantee.
Here are a few of our best-selling systems: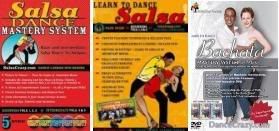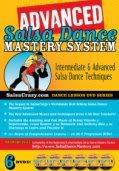 And now featuring the newest SalsaCrazy Series:
The Advanced Salsa Dance Mastery System (6 DVD Set)
Plus get discounts and find all of SalsaCrazy's other amazing dance products.
Featuring Salsa, Merengue, Bachata, Cha Cha Cha, Styling, Footwork, Ballroom, and more!

SalsaCrazy Monday Nights!
SALSA DANCING AFTER 9:30!

Exception: Live Salsa This Week…
This week live salsa @ 8pm!!!



Live from the Rockit Room:


Salsa Dancing from 9:30 & Beyond…


Before 9:30, Salsa Lessons with SalsaCrazy

This is a FREE event every Monday, 9:30 on

Featuring DJ SalsaCrazy & Friends!

Come out and dance the night away with friends while you meet new people!

This is an excellent chance for your to get out and enjoy some salsa with great people, and music in a stellar venue!

Rockit Room is a fantastic space with tons of room to dance & an amazing sound system!
Liven Up Your Mid-Week
Salsa Dancing, San Jose
Free Salsa Lessons at 8pm
Featuring all-star DJ El Dela Clave

Roccapulco Supper Club Salsa Nights – August 2009
For Stellar Salsa Music and Dance, Roccapulco is
the place to be on Friday and Saturday nights!
Salsa Lessons at 8:30pm with Ava and Rodolfo (this Friday and Saturday)
3140 Mission Street
San Francisco, CA 94110
Tel. 415.648.6611
SalsaCrazy's ROCKIT ROOM Class!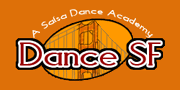 SalsaCrazy's Rockit Room class
continues… In Style!
Join us for an amazing
salsa session in the Richmond.
Sign up for August 2009 Classes Now!
Learn to
Salsa Dance… Get Crazy!
The Rockit Room
406 Clement St (at 5th Ave)
San Francisco, CA
94118
Brand new stellar Salsa Music Compilation Out Now!
A hip-shaking music collection featuring many of the hottest salsa
bands in North and South America is finally here!
¡Salsa!
An incredible Salsa compilation by the Putumayo World Music label
Order The CD And See More Details Here.
While the irresistible sounds of Afro-Latin music have long been a highlight of Putumayo collections, ¡Salsa!
focuses on the upbeat, danceable style that has become a worldwide
phenomenon. Featured prominently on television's popular dance contest
shows, tens of thousands of dance schools have incorporated salsa
classes, thousands of nightclubs now offer salsa nights and scores of
international salsa congresses and cruises draw in hundreds of
thousands of salsa dancers. As a result, salsa has truly become
mainstream.

Introducing the ALL-NEW Hear & Play Salsa Piano 101 Series!
"Finally! The Secret Is Out!" "A Proven Method To Quickly And Easily Play Salsa Piano By Ear. . . Even If You Have Little Or Absolutely No Experience!"
How to easily play tons of Salsa and Latin chord patterns that are guaranteed to make you

look

Learn several Latin rhythms that you can start playing today. Like the montuno, clave, and more!

How to play several Salsa bass lines on your left hand and accompany them with powerful right-hand chord patterns.

How to lock in with the band and ensure that you're always playing the right rhythms at the right time (and how to listen for them).
Check out this amazing system to learn how to play Salsa like a pro…
Get ready to dance with the hottest and most fun salsa dance acadamy in the San Francisco Bay Area!
Featuring brand new salsa classes with SalsaCrazy!!!
All new DanceSF classes are beginning this Month…
Please visit our online schedule for times, dates, & locations:
You can (and should) register online!
For any questions regarding classes, please contact:
info@DanceSF.com or call 877.507.3403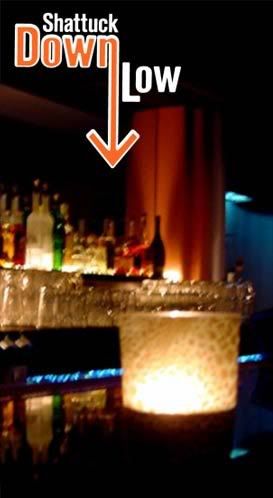 The DownLow Lounge: Wednesday Night Salsa in the East Bay!
When you think of the DownLow lounge, nestled down a set of stairs, right off Shattuck Ave. in Berkeley, you think of Salsa History, and you can't help but remember . . .
This club has been around since the days of Kimballs, and back then it was known as Mr. E's (and belonged, in fact, to Mr. Pete Escovedo).
Well, new name, but still, there's something special when you visit the DownLow. It's just a classic salsa spot . . .
Don't miss out! Great Dance Lessons for over an hour, start every night off, with SalsaMania (John and Liz). It's a great night out, at a classic salsa spot!
Live Salsa every Wed.
Dance lessons: Beg. 8-8:45, Int. 8:45-9:30. Show @ 10:15. $4 Margarita special. $10/$5 w/student ID.

SalsaCrazy's Bay Area Nightilfe/Event Calendar!
The definitive guide to Latin Nightlife and Events in the Bay Area.
Everyone, and Everything is listed!
Promoters, Nightclubs, Teachers: Make sure that your nights are listed on the calendar. Right from the Calendar page, anyone may add a listing, & it's FREE! Make sure to bookmark the page, & always add your events as far in advance as possible! Pass the word, this is a great resource for the dancers, & you should visit it often to plan your nights out!
IT'S FREE – EVERYONE & ANYONE CAN POST EVENTS, & IT ONLY TAKES ONE MINUTE
Don't know what to do tonight? Every event, throughout the entire Bay Area (and major cities outside the Bay Area) is listed right on this calendar. It's fantastic! One place you can go to check out every Salsa Dance event in the Bay. Don't miss a single event, ever – and see every night's infinite possibilities!

DJ Coqui, Salsaroots.com and Salsacrazy.com are proud to announce our new Internet radio station SABOR BORICUA. Listen to the hottest Salsa Sounds on the internet compiled by DJ Ivette "DJ LA COQUI" This Station Plays Tracks Like: Celia Cruz – Mi Vida Es Cantar – Mi Vida Es Cantar Ismael Miranda – Borinquen Tiene Montuno – Fania 30 Great Years, Vol. 2 ( Johnny Polanco – Guacuanco con rumba – Pa'l Bailador Roberto Roena – Baila y Goza – Roberto Roena y Su Apollo Sound: Mi Mica 1997 Walker, Rico / Willie Rosario – La Bomba – Back to the Future.
$50 Prize to best costume!
Don't miss this unique holiday dance party and traditional son concert.
Halloween Dance Party with Los Boleros. In a time of modern salsa and timba,
Los Boleros stays true to the traditional sound of an era when music was golden.
Cuban son montuno and traditional salsa with that Buena Vista Social Club Vibe.   
This is the Friday night before Halloween so you can still to the kids thing the next day. Let's have some adult fun!  🙂

SecretSalsera has done it again, now with her new insider reviews for her salsa adventures, showing you the scene and behind the scenes and off course in the red carpet.
Episode 5: Salt Lake City Salsa Congress 2009 ~ Insider Review of the Salsa Congress in Salt Lake City, Utah
and
Episode 6: Arizona Salsa Congress 2009 ~ Insider Review of the Salsa Congress in Scottsdale, Arizona
and if you find yourself becoming part of one of my stories… which, if you stick around 'The Scene' long enough, you likely will… you can rest assured that all identities will be hidden, as these are the stories that bring people to say "what happens at congress… stays at congress!".
For Past SecretSalsera Adventures visit http://www.SecretSalsera.com
 $375 for 5-10 hours a
week of salsa instruction
June 8-July 31 2009
Studio Gracia
19 Heron St, San Francisco CA
Want to join us? email Ricardo at ricardo@ricasalsa.com
call Ricardo (510)612-0985
Tianne (415)571-6478
MIXTURA BAHIA
Monthly Brazil/Cuba Get Down Every 3rd Friday of the month.
Friday, April 17, 2009 at 9:00pm
Bollyhood Cafe
3372 19th & Mission
San Francisco, CA
BACK AGAIN THIS FRIDAY!!!
MIXTURA BAHIA
Returns to The Bollyhood Cafe
3372 19th & Mission SF 94110
A proper Brazilian/Cuban Get Down.
Live Performances by:

Sambamora Brazilian Dance Company
and The Bateria ¡Blocura! de San Francisco.
(Axé performance 10:30 – Rio performance 11:30)
DJ Alfie1bateria will be bringing Brazilian Axé, Samba, Pagode, & Hip Hop (Brazil) 9pm -12:30am
Dj Dark Rum (AñejoProd.Com) will be closing it down with Salsa con Timba, Dance Hall, & Reggaeton til 2am…
Please join us for this Special Monthly Event and again Many Thanks to all the people that came last month.
Hope to see you again…
Cover: $7
RSVP on FACEBOOK or MixturaBahia@Gmail.com
for $5 guest list…

This Event is Free before 10pm.
Last months event was packed so come early!
Bay Area's Favorite Salsa Band
Avance LIVE!!
Tuesday April 14th, 2009
Glas Kat Supper Club
520 4th Street
San Fransico, CA
————————-
Beginning Salsa Classes at 7:45 – 8:45 by Alison Hurwitz & Jesus
Intermediate Salsa Classes 8:30 – 9:30 by Ricardo Tallez and Tiani Frias
$10 Cover includes admission and Salsa Classes
Dj Boriqua starts at 9:30
Avance Performing Live at 10:00
Dancing all night untill 1:45 am
———————————-
About Avance:
Avance Originates and consists of the hottest and newest talents the San Francisco Bay Area has come to know. Four electrifying, bilingual singers, a sizzling horn section, and one of the best rhythm sections on the West Coast. You put this all together and you get a new and unique sound that crosses the language barrier: Spanish and English. Leading the group is Carlos Santana percussionist, Karl Perazzo, and Co-Founder/Vocalist Armando Cordoba.

520 4th St San Francisco, CA
Rumba Cafe LIVE!!
Friday April, 3rd 2009
Roccapulco Supper Club
3140 Mission Street
San Francisco, CA 94110
——————————-
Salsa Lessons With Eva & Rodolfo
8.30 – 9.30pm Mixed levels
$10 before 9:30pm;
$15 thereafter (except for
special events).
Band Starts at 10:00!!
Conjunto Karabali at Cocomos
Thursday April 2nd, 2009
Cafe Cocomo
650 INDIANA STREET
San Francisco, CA
————————
New Happy Hour!!
50% off all drinks at the bar!
Every Thursday & Saturday 6pm – 9pm
Salsa Lessons with Salsa by Jake at 8pm
DJ FAB FREDDY at 9pm
Cover Charge $12 at the door
About Conjunto Karabali:
Conjunto Karabali is San Francisco's newest and hottest Latin dance band, featuring some of the finest talent in the Bay Area. The band is co-led by two of the United States' most renowned percussionists, Mike Spiro and Karl Perazzo, who have joined forces to create a group specifically for the dancer's enjoyment. They describe Karabali's style as "old school" salsa, and they bring to the Bay Area for the first time the traditional NY conjunto sound, popularized by Johnny Pacheco, Conjunto Clasico and Conjunto Libre.
This band is about swing and joyful energy, and the dancers can't wait to hit the floor when Karabali kicks into high gear. The band boasts a who's-who of SF Latin music all-stars in its line-up, starting of course with its leaders, Mike and Karl. These two internationally recognized drummers have performed and recorded with almost every major Latin artist of the last 30 years, from Eddie Palmieri to Carlos Santana, from Tito Puente to Celia Cruz. This is to say nothing of their credits as producers, bandleaders, and clinicians. Their extensive recordings over the last 25 years include internationally recognized jazz, Latin-jazz and pop artists, for which they have each received multiple Grammies and Grammy nominations.
When organizing the band, Mike and Karl asked Edgardo Cambon, the multi-talented vocalist/percussionist to take on the lead vocal chores, and then added Bob Karty on piano, Steve Senft-Herrera on bass, and the latest addition to the Bay Area music scene Miguel Martinez on flute. They then asked two of the finest trombone players in the area, Jeff Cressman and Marty Wehner, to come on board, along with the great Bill Ortiz on trumpet. The Credits of the horn players alone reads like a who's who of contemporary music as they collectively have played with; Tito Puente,Boz Scaggs, Carlos Santana,Israel "Cachao" Lopez, Pete Escovedo,Herbie Hancock & Sheila E.. There is no greater collection of musicians in any Latin band in the Bay Area, and with this caliber of musicianship and the hard driving swing the band brings to every performance, it is no wonder that club owners and concert promoters throughout California can't wait to get Conjunto Karabali on stage.
Rumbache LIVE at Shattuck Down Low!!
Wednesday, April 3rd 2009
Shattuck Down Low
2284 Shattuck Ave.
Berkeley, CA
Beginner lessons from 8-8:45
Intermediate lessons from 8:45-9:30
$10 cover, $5 w/student ID
$4 margarita special
About Rumbache:
Rumbaché (formerly Quimbombó) has established themselves as one of the hottest Bay Area salsa bands. Fusing salsa, timba, bomba and whatever else they could find to spicen up the mood, they provide a hard hitting style of playing. And while you can hear them interpreting the classic and contemporary Cuban and Salsa repertoire, they are not shy with their own expression. Their fresh originals make them stand-out in an otherwise cover heavy salsa scene. Under the leadership of percussionist Patricio Angulo, Rumbaché is the voice of youth for San Francisco's salsa scene, and ignites enthusiasm in dancers and musical connoisseurs alike.
Montuno Swing LIVE at Glas Kat!!
Tuesday, March 24, 2009 at 10:00pm
Orquesta Bakan LIVE!!
Sunday March 22nd, 2009
Jelly's Havana Cafe
295 TERRY FRANCOIS BLVD.
PIER 50, SAN FRANCISCO, CA 94158
415.495.3099
————————–
Doors open at 4:00pm
Band Plays at 5:00 pm
Cover: $10.00
Enjoy Live Salsa Bands & Great Cuban Barbeque!!
About Orquesta Bakan:
This high-energy Orquesta consists of some of the finest musicians in Northern California.
A nice blend of experienced, and up and coming young talent is reflected in their showmanship.
On vocals are, Victor "Cafe" August and Fernando "Nando" Wilkins. On Trumpets, Tom Bertetta and John Ruff. On Bari Sax, Peter Cornell, and on Trombones Doug Beavers, and Mike Rinta. Christian Tumalan on Piano, and Carlos Ramirez on Electric Bass.
Eric Mendez on Timbales, Sean Zuniga on Congas, and Director Jose Guaman on Bongos/Vocals. Each member brings the flavor of his country ranging from Puerto Rico, Panama, Ecuador, El Salvador, Mexico, Chile, and the USA.
Learn to Dance Salsa, Cuban Style!!
Classes Start
Saturday, April 4, 2009 at 3:30pm
AT DANCE MISSION
3316 24th St. San Francisco
Classes start on Saturday, April 4th
and Sunday, April 5th
Saturdays: Afro-Cuban Folklore
3:30–5:00 pm | all levels | $12
Sundays: Cuban Popular (Listening + Dance)
12:00–2:00 pm | all levels | $20
AT MOBU DANCE STUDIO
1605 Church at 28th St., San Francisco
Classes start on Thursday, April 2th
Thursdays: Afro-Cuban Folklore
7:30–9:00 pm | all levels | $15
NEW VENUE!
AT LAKE MERRIT DANCE CENTER
At Oakland Veteran's Hall, 200 Grand Ave. at Harrison, Oakland
Classes start on Tuesday, April 7th
Tuesdays: Cuban Popular (Listening + Dance)
7:00–9:30 pm | all levels | $25
About Roberto Borrell:
bio from Roots of Timba Project
Roberto Borrell learned traditional and popular Afro-Cuban dance, percussion, and song from master musicians and dancers while growing up in la Havana Vieja, Havana, Cuba. He is a respected dancer and percussionist of Afro-Cuban Yoruba, Abakua (Calabar), Rumba, Arará (Dahony), and Palo (Congo). He also a master dancer and teacher of Cuban popular dance styles such as son montuno, danzón, and cha cha cha.
Mr. Borrell led the Afro-Cuban folkloric group Kubata in Cuba for 10 years before coming to the United States in 1980, where he founded a new company under the same name. Kubata, then based in New York City, performed Roberto's productions for 10 years in many major East Coast venues, such as the Smithsonian, Lincoln Center, and Carnegie Hall. He also was founder and musical director of the famous New York-based Son Grupo, part of Kubata productions.
Borrell danced in the front line of the Folklorico Nacional de Cuba for several years and, in major United States venues, has performed and recorded both as a dancer and percussionist, with legends such as Tito Puente, the Machete Ensemble, Chocolate Armenteros, "Cachao" Lopez, and Richard Egües.
Mr. Borrell was the co-founder, percussionist and musical co-director of the 11-member Orquesta la Moderna Tradición, one of the only ensembles in the United States that is dedicated to the performance of classic Cuban dance music: son, guaracha, cha cha cha, and especially the lilting grooves of the danzón.
Fito Reinoso & Ritmo y Armonia LIVE!!!
* * *
Saturday March 21st, 2009
* * *
Cigar Bar & Grill
850 Montgomery Street • San Francisco, CA 94133
————————
Come for the tapas, drinks, and cigars…. stay for the LIVE Latin music!
*Band Starts at 9:00pm*
About Fito Reinoso & Ritmo y Armonia:
If you are looking for the scorching rhythms of Cuban new-wave, Fito Reinoso and Ritmo y Armonia is guaranteed to please. Called "the Bay Area's up-an-coming band" by Latin Beat magazine, the band features an undeniable Cuban sound, which reflects Cuba's street beat as well as its broad musical heritage. "Ritmo y Armonia" plays primarily original music, composed by Fito and inspired by contemporary Cuban rhythms. The orchestra plays more traditional Cuban genres such as son-montuno, cha-cha-cha, and bolero but always with a sound that is authentic. And don't miss Fito and his band weekly at hot salsa dancing spots such as The Ramp, Cafe Pier 23, and Club Jelly's.
MAZACOTE PLAYS LIVE AT LATIN FEVER FRIDAYS!
Friday, March 13, 2009 at 8:45pm
The Beat Dance Studio

————————————-
About Mazacote:
Mazacote is the hard-swinging, old-school salsa group led by legendary percussionist Louie Romero, who came to fans' attention as the longtime timbales player for famed salsero "El Cantante" Hector Lavoe. Louie is also renowned for his work with Willie Colón, Rubén Blades, Celia Cruz, Ron Carter, and other salsa and jazz stars in his native New York.
Based in San Francisco, Mazacote plays a crowd-pleasing, high-energy mixture of classic salsa favorites and original latin jazz tunes. It's no wonder that Latin Beat magazine called Mazacote "one of the premier salsa ensembles in Northern California."
Recently, the band released the album "Timbalero." Its title track is a fresh take on Louie's classic 1972 recording of the song with Hector Lavoe and Willie Colón. The album — filled with soulful and danceable salsa, cha-cha, latin jazz, Cuban guajira, and bomba — is receiving rave reviews from dancers, DJs, and music critics alike.
Noches de Salsa Presents,
Grand Opening Salsa Night!
Saturday, March 14, 2009 at 9:30pm
STEPHENS GREEN PUB

Lets Party this Saturday March 14th with the best of the bay area, DJ Franklin, DJ Platino, DJ Cleve and DJ Tony "O" in the mix from La Kalle 105.7 playing salsa, merengue, bachata, reggaeton, rock en espanol and top 40s……..Its party time!!
"Spring Dance Inspiration 2009"
—————————-
-a cure for brain tumors-
for the benefit of the National Brain Tumor Society
"Spring Dance Inspiration" is an annual event at which San Francsico
bay area artists perform with their feet and their hearts to raise
funds that support brain tumor research, and
also to support brain tumor patients and their families.
Our third annual event "Spring Dance Inspiration 2009 -a cure for brain tumors-" will come back on March 21 and 22, 2009 at the Cowell Theater at Fort Mason Center in San Francisco again!
Complete info: www.tkfproductions.org
The event will feature remarkable artists including one of the
brightest young flamenco dancers, FANNY ARA, nominated as the Most
Outstanding Individual Dancer in 2006 in the Isadora Duncan Dance
Awards, Internationally-renowned Mambo/Salsa dancer SEAON BRISTOL,
award-winning Belly Dancer OREET, Indian dancer SHREELARA SURESH and
Ballet dancer BOBBY BERNSTEIN-BONVIN, as well as local professional,
talented amateur and child dance groups performing flamenco, Hawaiian
hula, Philippine folk, hip hop, contemporary modern and other exciting
dance styles.
Also at the event, the event photographer will take photos of many of
the best dressed audience members, as our event Media Sponsor 7×7
Magazine will cover the event for their social page. If you are
interested in dressing up, come to our show and maybe be in the
magazine!!
Don't miss one of the most exciting dance festivals in SF!
Tickets are on sale now!!!
-Festival of world dance varieties-
Sat. March 21, 8:00 PM
Sun. March 22, 3:00 PM
Cowell Theater
at Fort Mason Center
Call for tickets
(415) 345-7575
Advance tickets $18 – $38
Come and Support Our Latin Jazz Youth Ensemble!
————————————–
Wednesday, March 18, 2009
San Jose State Music Building, Concert Hall
One Washington Square (7th St. next to Event Center)
San Jose, CA
————————————————-
Please come support the San Jose State University Latin Jazz Ensemble currently directed by "The Doctor" Wayne Wallace!
The admission ranges from $5-$7.
The Set list:
Philadelphia Mambo
Maiden Voyage
El Cantante
Love Walked In
Los Gatos
Ya llego Bebo
History:
Since its debut concert with guest artist Pete Escovedo in May of 1989, the San Jose State University Latin Jazz Ensemble has enjoyed an ever increasing popularity in the San Jose Jazz and Latin music scene for over 14 years.
Under the direction of multiple percussion instrumentalist, recording artist, author, composer, arranger, and Professor of Music Daniel Sabanovich, the SJSU Latin Jazz Ensemble is a student group who's primary objective is to help preserve Afro-Brazilian, Afro-Cuban, Latin Jazz, and Salsa musical traditions through music education and performance practices. Much of the music performed includes some of the "classic" repertoire of a number of influential Afro-Cuban, Latin-Jazz, Salsa, and Brazilian groups of today and yesterday. A notable portion of the groups repertoire includes timeless instrumental and vocal classics by Tito Puente, Ray Barretto, Celia Cruz, Cal Tjader, Poncho Sanchez, Dizzy Gillespie, Antonio Carlos Jobim, and Mongo Santamaria to name only a few.
The ensemble maintains a busy performance schedule which includes such local California Bay Area jazz clubs as the Kuumbwa Jazz Center, Club Fuel, and Gordon Biersch, as well as performances at the AT&T San Jose Jazz Festivals, the prestigious 45th Annual Monterey Jazz Festival, and with the San Jose Symphony.
Latin music has been the single most important outside influence on American popular music over the last one hundred years. Almost every decade since World War One has seen styles from Cuba, Brazil, Puerto Rico, Dominican Republic, Mexico, Argentina, or elsewhere sweep the United States. The conga, rumba, mambo, cha-cha-cha, merengue, samba, and tango are only a few of the ever popular "dance musics" which have captivated American audiences for years. As a matter of fact, people usually can not stop themselves from moving to the infectious rhythms! The SJSU Latin Jazz Ensemble is no exception. There is no doubt that this ensemble delivers the bottom line-a gripping beat provided by the congas, timbales, bongo,and bass, slicing horn sections melodies and riffs, mosaic piano,guitar and vibraphone rhythms,and soulful dynamic vocals! The energetic rhythms provide a strong dance beat. So, if you find it hard to sit still when listening to the CD, you won't be alone!
Don't Miss Spanish Harlem Orquesta!!
Friday April 24th, 2009
Roccapulco Supper Club
3140 Mission Street
San Francisco, CA

About Spanish Harlem Orquestra:
The Spanish Harlem Orchestra channels the vintage salsa sounds of El Barrio in the 1960s and '70s with full-bodied big band style, vocals by turns suave and soaring, and crisp new arrangements of classic repertoire. With intoxicating grooves and dazzling improvisational prowess, Hernandez's band performs an exhilarating program of rumbas, cha-cha-chas, mambos, son montunos, and other styles from the golden era of Latin dance music.
"Our music style is the original sound of New York old school "Salsa dura" (heavy salsa) that was played in the early years by our pioneers," says Oscar.  "That sound has been lost and we want to keep it alive while educating the new generations (and music lovers in general) on the true musical roots of our culture." Oscar adds, "we've brought back the essence of what makes this music great and are keeping the salsa spirit alive in our recordings and shows."
Oriente Music LIVE at the Cigar Bar!!
Saturday March 14, 2009
9:00pm – 12:30am
Cigar Bar
850 Montgomery St.
San Francisco, CA
—————————
Oriente brings their mix of traditional and modern Afro-Cuban beats to the Cigar Bar in San Francisco.  Come out and dance to the salsa con sazon!
About Oriente Music:
The Oakland, California-based band offers up an enticing mix of contemporary salsa and traditional Afro-Cuban styles, including son, danzón, guajira, mambo, and cha-cha-chá.
Their repertoire includes original compositions as well as songs from the books of Eddie Palmieri, Marc Anthony, the Afro-Cuban All-Stars, Willie Colón, Tito Puente, El Gran Combo de Puerto Rico, and Buena Vista Social Club.
The ensemble includes vocals, violin, flute/saxophone, trombone, piano, tres/guitar, bass, conga, timbales and bongó.